Toyota claims the cabin follows its principle of 'hands on the wheel, eyes on the road', with a minimalist dashboard and infotainment screen mounted within the driver's eyeline, alongside 'binocular-style' instruments. The driving position has been improved, with a hip point 3.6cm lower than the old car's and greater seat and wheel adjustment for a less upright seating point.
It's the first car in its class to feature a centrally mounted airbag system between the driver and passenger, while a comprehensive suite of driver aids is standard.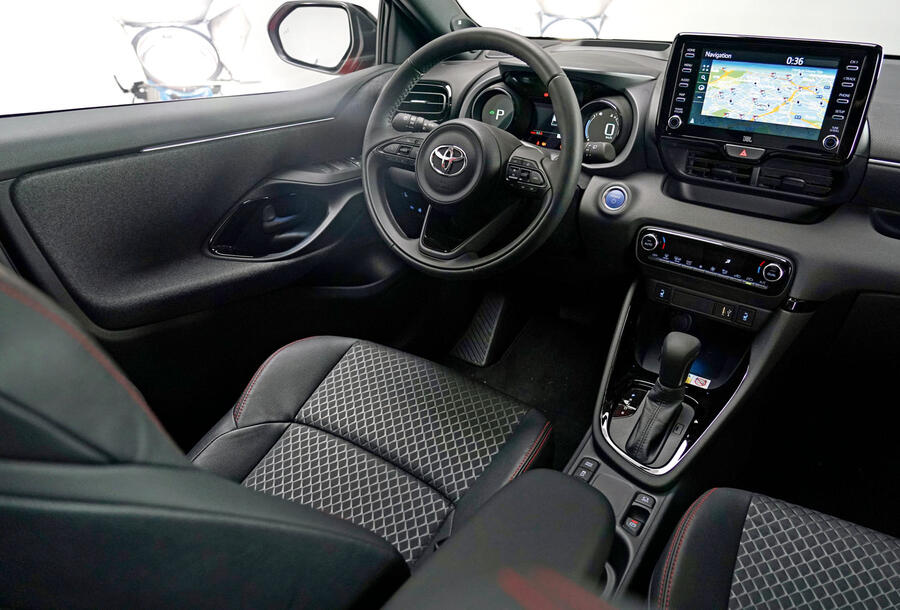 The European Yaris will be available with three petrol engines, all with three cylinders. A base 1.0-litre will be offered with a five-speed manual gearbox, while a 1.5 will come with a six-speed manual or CVT automatic option. The UK will take the two 1.5s initially, with the 1.0-litre likely at a later date. The hybrid, set to account for more than 80% of sales, uses the 1.5-litre unit mated to a 79bhp, 103lb ft electric motor and an air-cooled lithium ion battery. That battery is 27% lighter than the nickel metal hydride pack it replaces yet is capable of delivering more power at a faster rate than the old item.
Together with a new transaxle and more efficient motor, the powertrain is 15% more powerful than before yet produces around 20% less CO2, Toyota claims. Power, torque and efficiency figures have yet to be released. What has been confirmed is that the Yaris hybrid can switch to electric-only mode at speeds of up to 80mph – far higher than previously. The engine itself runs on the Atkinson cycle for greater efficiency, uses variable valve timing, has a thermal efficiency figure of 40% and runs at a diesel-like 14:1 compression ratio.
Toyota says the new GA-B platform, related to that of the Corolla and C-HR, offers best-in-class structural rigidity at 40% more than the Mk3 Yaris's, thanks to the use of high-tensile steel. Despite this, and the hybrid tech developments, engineers told…


Read more: New 2020 Toyota Yaris priced from £19,910 in UK