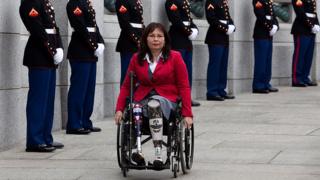 Who is Tammy Duckworth, the US senator from Illinois who is reportedly on the short list for the vice-presidential slot on the Democratic ticket?
Born in Bangkok and wounded in the Iraq war, Tammy Duckworth has a Purple Heart and the instincts of a street fighter.
Her name has come up frequently during high-level discussions about the vice-presidential slot for the presumptive Democratic nominee, Joe Biden. She has also become a target for Fox News's Tucker Carlson and other conservatives.
When she said recently on CNN that she was open-minded about the prospect of removing US monuments to US founders and slave holders, Mr Carlson questioned her patriotism.
She fired back, saying that Mr Carlson should "walk a mile in my legs and then tell me whether or not I love America".
Her challenge to Mr Carlson attracted national notice and drew people's attention both to her political acumen and to her military background. She was shot down in a helicopter during the Iraq war and lost her legs.
Many Democrats believe that her military record and her tenacity during fights with conservatives, as well as her background as an Asian-American, would strengthen Mr Biden's candidacy. If he chose her as a running mate, say her supporters, she would help to shore up votes among veterans, minorities and women.


Read more: US election 2020: The war hero who could be Biden's running mate